Heather Lyn Johnston and Ashley Nicole Miller, the women who were arrested after robbing a Bank of America branch at a Kroger grocery store in Georgia last year, received their sentences today.
Miller, 19, was ordered to serve 2 years of her 10 year prison sentence, while the remainder must be completed as probation. Johnston, 22, was sentenced to 10 years probation.
Johnston and Miller and Benny Herman Allen, 23, had all pleaded guilty to theft by taking. Miller's boyfriend, Michael Darrell Chastang, was convicted of theft by taking.
The two women, both strippers at the time, and Chastang decided to rob a bank.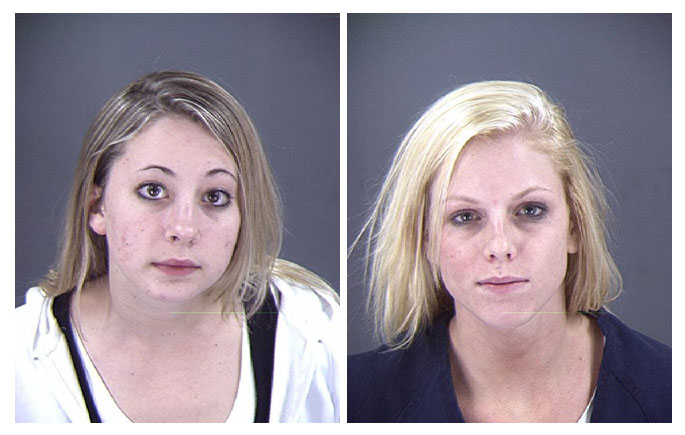 The following day, Chastang called the girls with instructions. He told them that he knew a teller at a B of A branch that could act as their "inside man." The teller was Benny Herman Allen.
Allen told the women what to include on the demand note, which asked for loose bills and included the statements, "Remember, I will not hesitate to kill you. Keep hands where I can see them. Do not pull switch."
The two women were videotaped committing the bank robbery. They stole 11,000, which was to be divided among the four of them.
The two girls immediately went shopping at Phipps Plaza and Lenox Square mall for clothes and shoes, got their hair done at Carter-Barnes Hair Artisans, and bought a television at a Wal-Mart.
They were arrested two days after the robbery.
Johnson also pled guilty to a misdemeanor marijuana possession charge, while Miller also pled guilty to possession of Ecstasy with intent to distribute.
'Barbie Bandit' is sentenced to 10 years in prison for a bank heist, International Herald Tribune, March 24, 2008
The Fall of the "Barbie Bandits," ABC News, March 24, 2008
The Barbie Bandits saga winds down, AJC.com, March 24, 2008
Related Web Resource:
The General Laws of Massachusetts

In Massachusetts, our Boston criminal defense attorneys represent clients arrested or charged with all kinds of theft crimes. We can fight the theft charges against you and work towards the best outcome for your case. Contact Altman & Altman LLP today.